When it comes to managing a restaurant, there's a direct correlation between how well you train your staff with the success of your restaurant. Training leads to confidence for the employees, confident employees who know that they're doing well are happier, and happier employees deliver the best customer experiences. It's a continuous cycle that can either make or break your business.
This is especially true when you're trying to build long-term success. If your team isn't committed to constantly improving to meet the evolving needs of your customer base, you're going to have a hard time keeping up with the restaurant down the street.
So, how do you build a culture of training that continuously grows and evolves?
An important part of training and managing that gets overlooked is the pre-shift meeting. Make sure your people know what's going on each day, what they can expect, changes with products or procedures. Make sure there are no surprises.
Most of your training budget is going to be spent onboarding new employees, but don't forget that it's equally important for seasoned team members to keep improving as well. One way to do that is to have them keep learning new things. Challenge themselves. Some of the best restaurants will encourage employees to get certifications for food safety, hospitality, or even a culinary arts certification. The main goal is to keep the employees learning and engaged.
It can be hard to budget time and resources towards training for an employee that's already thriving, but we can't understate the importance of it. As Navy Seal and leadership coach Jocko Willink outlines in his book Extreme Ownership, leadership isn't about what you preach, it's about what you tolerate.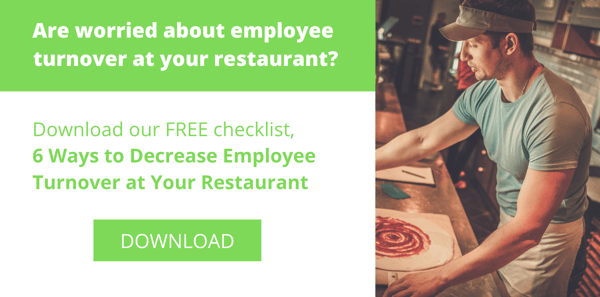 Continual training is essential. Yes, it takes a lot of time and energy to create a culture that fosters employee training, but the benefits trickle into every aspect of your business. This is true for all industries, but especially in restaurant food service.
Employee training can have a short or long term effect on employee retention, which we all know is one of the largest problems facing the restaurant industry right now. Employees who know what's expected of them and buy into your culture will be happier and more likely to stay.
Like most things in life, this is a process and won't happen overnight. But if you decide to stick with it and build on it every day, the results will compound and have incredible results for your restaurant
Employee training is just one of several key strategies to make your team happier and increase retention. For more, download our FREE resource, 6 Ways to Decrease Employee Turnover at Your Restaurant!